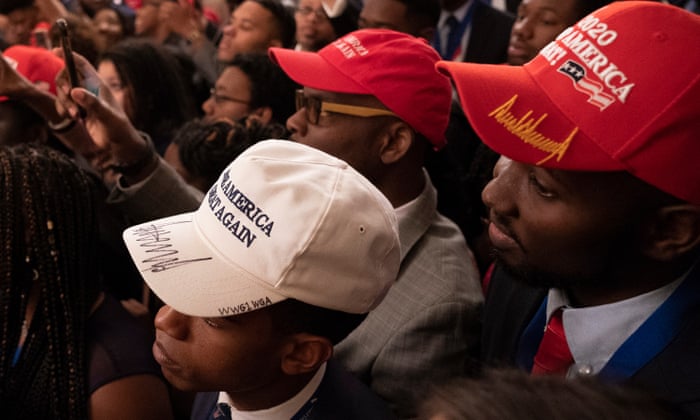 Black people are so easily misled and so easily deceived, that they would rather be divided and separated by the game of politics than to be self-sufficient among themselves.
For the issues that divide us are not our issues, those issues only became vital to America when they didn't destroy us like they thought they would.
For the issues of Child Abortion only became an issue for America when politicians made it an issue of politics.
Child Abortion was not an issue for America when it was created for the destruction of Black babies in America.
Brothers and sisters, they are good at changing the narrative, don't let them change the narrative of your story or even tell your story, you tell your own story, and you keep the narrative of your own story.
African American brothers and sisters, Don't let the politics of politicians deceive you into believing that the Republican Party or the Democrat is for African Americans or even cares about the welfare African Americans.
For they used their politics to create a systematic system of oppression to oppress the African American race for no other purpose, but for hate and the color of our skin.
And they used all the power of their government, their politics, their laws, and their constitution to create this system of oppression and injustice we have today.
And their politics are so unjust and hypocritical, that it has the whole country divided and separated within itself, but yet you think it's going to work for you and set you free.
And even now it's doing to African Americans what it was created to do, "DIVIDE AND CONQUER," but yet you can't see you're becoming more separated and divided among yourselves, because you're playing with a system that was created to destroy you, not to help you.
So you think their politics is the way, the truth, and the life, when their whole system of politics is corrupt, and it's total failure is inevitable.
Brothers and sisters, your power is not in their politics, their governments or their laws, your power is in your restraint, your resistance, and your will.
For we are the bulk of this nation's consumers, and we consume a whole lot of nothing, we consume things that don't really matter.
Think about where we would be as a people, if we chose to consume the knowledge of GOD over material possessions, cars, new phones, the status quo, and the Joneses.
Think about where we would be as a people if we stopped spending our money with this economy?
Think about where we would be as a people if we just said NO.
Think about where we would be as a people if we were just a people united within ourselves.
Think about where we would be as a people, if we didn't let other people deceive us, divided us, destroy us, and manipulate us among ourselves.
Think about where we would be as a people, had they not passed the Jim Crow act through their politics?
For their politics is how they made those stupid oppressive laws in this county, politics is how they passed white only bathrooms, white-only water fountains, blacks sit at the back of the bus.
Politics is how they could kill Emit till with no justice, politics is how crowds of whites people could take pictures with African American males hanging from trees like strange fruit, and none of them are brought to justice.
Politics is how they can kill African American males in the streets and no one is convicted or brought to justice, because they are protected by the laws they passed through their politics.
Politics is how slavery was introduced, politics is how they created laws to protect slavery, and politics is how they created this systematic system of racism in America.
For Politics is what created this oppressive system that controls all areas of life concerning African Americans in America.
So you want to be in politics, and you think politics will work for you?…………….LOL
Brothers and sisters, you have so much power within you, that you can change the game of politics, and make them reconstruct the whole system of politics, just by saying NO.
You can make the whole political establishment crumble, just by resisting to compromise the truth for political lies.
For at some point you have to come to a place where you stop waiting for the crumbs that fall from the master's table, and have the heart to create your own table, and set your table the way you want it to be set.
For you have a seat at the table, because you and your ancestors paid for in slavery, in blood, in sweat, and in tears.
But forget their table, make your own table.
And if you don't want your children's children going through the same hell you had to go through just to be second class citizens, then you need to say NO, you need to REBEL, and you need to RESIST.
"The people that walked in darkness have seen a great light: they that dwell in the land of the shadow of death, upon them hath the light shined. Thou hast multiplied the nation, and not increased the joy: they joy before thee according to the joy in harvest, and as men rejoice when they divide the spoil. For thou hast broken the yoke of his burden, and the staff of his shoulder, the rod of his oppressor, as in the day of Midian. For every battle of the warrior is with confused noise, and garments rolled in blood, but this shall be with burning and fuel of fire. For unto us a child is born, unto us a son is given: and the government shall be upon his shoulder: and his name shall be called Wonderful, Counsellor, The mighty God, The everlasting Father, The Prince of Peace. Of the increase of his government and peace there shall be no end, upon the throne of David, and upon his kingdom, to order it, and to establish it with judgment and with justice from henceforth even forever. The zeal of the Lord of hosts will perform this.
The bricks are fallen down, but we will build with hewn stones: the sycomores are cut down, but we will change them into cedars."
‭‭
‭‭(Isaiah‬ ‭9:2-7‬) "The people that walked in darkness have seen a great light: they that dwell in the land of the shadow of death, upon them hath the light shined. Thou hast multiplied the nation, and not increased the joy: they joy before thee according to the joy in harvest, and as men rejoice when they divide the spoil. For thou hast broken the yoke of his burden, and the staff of his shoulder, the rod of his oppressor, as in the day of Midian. For every battle of the warrior is with confused noise, and garments rolled in blood, but this shall be with burning and fuel of fire. For unto us a child is born, unto us a son is given: and the government shall be upon his shoulder: and his name shall be called Wonderful, Counsellor, The mighty God, The everlasting Father, The Prince of Peace. Of the increase of his government and peace there shall be no end, upon the throne of David, and upon his kingdom, to order it, and to establish it with judgment and with justice from henceforth even forever. The zeal of the Lord of hosts will perform this."